Baumit NanoporColor
Self-cleaning, pollution resistant, silicate based paint. New `photocat´technology creates maximum protection against contamination using the power of light. Mineralic and highly vapour perme
Protection and enhancement of façade surfaces over old and new mineral and organic substrates such as plasters and fillers, on concrete, in protection of historic monuments and refurbishment. Also suitable for renovation work and as a paint finish on external wall insulation systems.
Self-cleaning

Photocat effect

High durability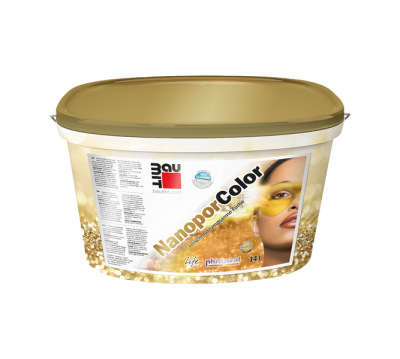 A self-cleaning effect is achieved through the application of a unique microstructure made from nanoporous and inorganic additives, which prevent dirt particles settling on the surface.
Product Variants
Water vapour permeability
app. 30- 40
Gross density
app. 1.5kg/dm³
Water vapour permeability
app. 30- 40
Gross density
app. 1.5kg/dm³
---
Color Selection
All color samples shown serve as a visual guide to the chosen product. Test samples applied on the façade for approval prior to full application is recommended. Slight differences between colors shown here, color swatches, color folders, natural samples and the materials provided are possible due to production processes and cannot be claimed against. Color and texture uniformity can only be assured within a production batch. Please note: The structure and nature of the substrate may affect the actual color appearance.
Color code
color_name
HEX: hex_code
RGB: rgb_code
Are you looking for a specific color?
---